Fishing Cactus is proud to announce the development of Equilibrio, a mind flowing, puzzle solving and gyrating game for Nintendo WiiWare and iPhone / iTouch platforms.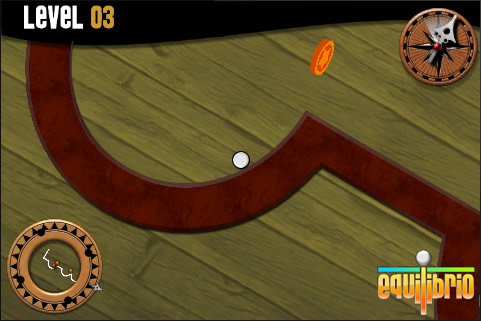 Co-jointly developed by Fishing Cactus and DK-Games, Equilibrio will hit both Nintendo WiiWare service and Apple Store in Q1 2009.
Equilibrio is our first mid-scaled project and we had the task to create the iPhone version of the game as well as designing the levels and some of the game mechanics for both versions.
Thanks to our multi-platform engine and, of course, talented programmers, we were able to get the first version of the game from the Wii version to the iPhone in less than 2 weeks, I think it's not that bad. From that point started the work on the iPhone version to make it fun, playable and enjoyable modifying the initial design and levels enough to have an interesting game experience on the console.
The game features an easy and accessible gameplay, pick and play philosophy targeted for both hardcore and casual gamers (I assure you that the last levels of the conquest mode are still really hard). Thanks to its short levels the game asks low time investment from the player, you can play in the train or in the subway. One level often lasts from 2 to 10 minutes depending on your skill and mastery of the different balls. It is something that we wanted to push in the game as the iPhone is a handheld console. To increase replayability, the game features 4 play modes, cross profile high score tables and trophies which are unlocked under certain circumstances (like the one you can find on XBLA and PSN titles).
Also maybe you didn't notice in the screenshot but all graphics of the game are in 3D, we have a dynamic minimap and intelligent camera zoom to help players see incoming obstacles.
You can find more information about the game on the official website (http://www.equilibrio-game.com). Enjoy!