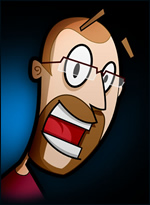 That's it, Fishing Cactus new website design is on its way. It is not that the old website wasn't good, it was simply LAME, made by my one and half web-designer-no-artist hands and my small 2-3 years web designer experience didn't help very much (more experienced in PHP programming though). But seriously who cares?
To lead this perilous task we chose Michael Heald from FullyIllustrated to actually create the company's website, rebrand our logo and trash this ugly blog banner. Amongst his portfolio, Michael has worked on the portal of Cortex Command, Klei Entertainment and Toribashi. All those three websites are visually very different and from my point of view very appealing.
The website will detail the service we are providing but also the games we are working on as well as a company bio, jobs and all the fancy stuff you have in all corporate websites. The new website should be available near the end of February, start of March. So prepare to get rocked hard in the few months.