Our new game, Mikks is out and available on the AppStore.
Easy to pick up, challenging to master; Mikks is the ultimate game for fans of energetic puzzle games. Fast-paced gameplay meets with hypnotic music tracks and colored blasts!
Your objective is simple: mix colored blocks and match 3 to make them disappear. Keep the board from overflowing with blocks to prevent a game over.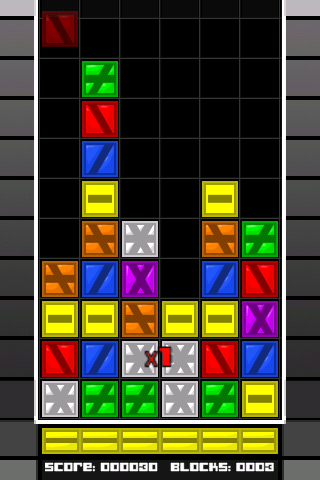 Beneath the retro style of the game is hidden a combo potential that will become the new reference for fans of the "match-3" genre.
• 7 game modes
• Over 15 game parameters and other surprises to unlock
• Fully customizable game settings
• 29 records to make and break against other players across the world via OpenFeint
• An explosive audiovisual experience
• Achievements waiting to be unlocked through the OpenFeint connectivity
Compatible with iPhone and iPod Touch, Mikks™ is available in English and French at the price of 1.99$ / 1.59€. You can download the game directly from iTunes using the following link.
A free version of the game is also available here to let you get a taste of Mikks™!