With the mondial crysis, it's important to think about the people who are in need. They maybe can't buy a fully functional Mac or an expensive Windows licence…
Luckily, they can discover the joy of working with the open-source "OS for the poor", Linux!
We have already improved the most current platforms on the market with our kickass Mojito Engine, and we are now currently working on the Linux version.
And just because we like you guys, readers of this blog, we will offer you the exclusivity of the year : the first screenshot of a not-so-mysterious project, running on Ubuntu!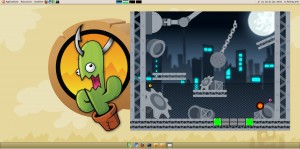 I know how much it's beautiful, but don't cry yet, keep your tears when it will be fully functional so stay tuned!