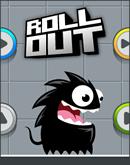 We had some really nice reviews on RollOut which has been released a few days ago on the App Store. Let's share some comments we got on the project.
You can find a 4.5/5 score on avosmanettes.com, a french game related website. "Roll Out est une expérience de qualité à la difficulté savamment dosée et parfaitement pensée pour des parties rapides qui font travailler réflexes et méninges."
Another german website, MacNotes.de gave us a 4.5/5 score.
Finally, iFanzine, gave us 3.5 out of 5 and quoted very positevely the game like this: "There's no escaping the fact that a fair few games in the App Store can be summed up with statements such as "It's like Mario Kart for iPhone!" or "Yeah it's HALO but they called it N.O.V.A. to avoid a lawsuit" or – and I'm sure every reviewer has used this one once or twice – "Okay, okay, it might be the seventieth Doodle Jump-esque title this month but it's actually still quite fun." All well and good, but it wasn't watered down clones of console hits or endless variations on popular genres that piqued my interest in iDevice as a gaming platform. It was those innovative little games that are unafraid to try something different. Games that manage to push boundaries while still playing to the hardware's unique strengths. Games like Roll Out."