We have been working for quite a couple of months on new projects for the launch of the Samsung Wave phone and its Bada Store. Gridz, one of them, is finally out.
Grid game initially developed by Atomic Cicada with whom we already did Minim on iPhone, has now landed on the Samsung Bada store (published by Handmark). Both Handmark and Samsung provided us with great support and the Wave device is truly a small beauty with a very nice 800*480 resolution screen (honestly 200X better than the iPhone 3G).
To give a little bit of context Gridz is a puzzle game with some serious energy in it! You have to rotate the energy glyphs to make the energy flow and power up all the pieces on the circuit board! Actually if you like games like Pipe Dreams, Gridz features a simple and elegant gameplay to provide a similar but yet unique gaming experience!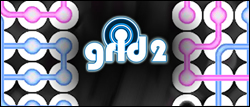 Gridz includes the following features :
*45 mind-buzzing levels (20 more than in the original Flash version)
*Unique and addictive puzzle gameplay
*Perfect for short bursts of fun!
* Unique zoom-in out feature.
And don't forget the number one rule: "Never cross the streams…".
For those who don't have a Wave device, don't worry, a release of Grid is already planned later this year on iPhone.