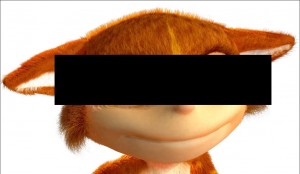 Hi Creatures fans!
We're finally back from Gamescom and it's been an incredibly exhausting yet satisfying experience. The Creatures 4 team worked extremely hard to get the game to the state it was at the show and while we're still far from our goal, most of the guys on the team have not slept for some time and really worked their ass off to deliver the demo on time.
Since the lid on the project PR has been lifted I can now talk more freely about the game and give you most of the information you've been eagerly waiting for. Before reading on, please keep in mind a couple of important points:
Creatures 4 is more than a new chapter in the series. It's a complete reboot for the Creatures IP and this means several things I will tackle in this post; most of all, it means that we wish the game to be an evolving product which will hopefully stay with us a long time. Free-to-play games  live as long as there are players to support them and who allow us developers to listen to community requests and feedback to make the game better and richer with content. We see the initial version of the game as a starting point which we will improve upon with updates and new content.
So, let's get to it…
How the Creatures 4 project was born and what about Mr.Grand
We get this question quite a lot and it's a good starting point in my opinion. Thanks to some community members, I've learned there have been previous attempts to revive the Creatures games in the past (commercially I mean) with at least another development studio on the project. Surprisingly, Creatures 4 is in no way related to any previous attempts to create a new Creatures game.
Actually the project's idea came from Fishing Cactus. Several of us here are fans of the series and at one point we were talking about which "old" game series would fit in today's ever-shifting gaming market. Creatures was one of these and we decided to try our luck and contact Gameware about it.
While understandably on the fence about it at first, Gameware was very open about discussing ideas and their stance was "surprise us and we'll talk". It took Fishing Cactus some time but we finally came up with a very early, new vision for the game, one that was based on current gaming trends: iOS, Facebook, free to play and whatnot. This was almost two years ago.
I think that our work convinced Gameware that we meant good and that they could trust us with the project and allowed us to go ahead and search a funding partner for the game.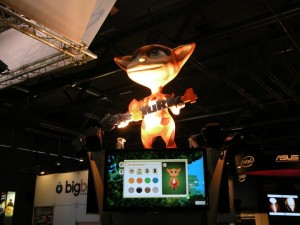 Some months later, Bigben Interactive came into play. When we pitched the project to them, very quickly they saw potential into the project and how passionate we were about it and decided to move forward with us. For those that don't know Bigben, this is a publisher that traditionally works on game accessories and accessories-related games. Free to play and AI-simulations aren't their cup of tea and their willingness to take on this adventure with us says a lot about their belief in the project. On top of that, their knowledge of merchandising and accessories made awesome stuff like the Gamescom figurines possible. Hopefully we'll get to do many more figurines and goodies when the game is released: Creatures 4 is a game that is suited to this kind of collectibles.
Another question we're getting a lot (understandably) regards Mr. Steve Grand involvement with the project. This will disappoint some of you but up to this point we've had no contact with Mr.Grand and I don't think he is related in any "official" way to the Creatures series anymore but I'm not privy to the details there so don't flame me about this (you can about other stuff though

). We are very respectful of the work he and his team have accomplished and we're definitely carrying this over to Creatures 4.
To answer a very passionate email about it sent to us by CosmicSpore, yes, he'll be in the credits as most of our work is based on the incredible things he did with the series waaaaay before we got to it. The more we get our hands in the original code, the more impressed we are with it and there's no way we're not acknowledging that.
If you're still not convinced, Fishing Cactus is betting a lot on this project: up to some time ago we were mainly focusing on the mobile market while moving slowly to consoles and generally "bigger stuff". As of now, Creatures 4 is our biggest project yet and we see it as THE project that will allow a small indie developer like us to emerge in a very crowded market where we learned that the best way to succeed is by listening to the players while keeping a strong focus.
Creatures 4 is as much a big deal for you as it for us, we've been living 24/7 with this game for several months and we still have a long way go, there's no way we could do that without loving it so much. For the anecdote, Julien Hamaide, our chief engineer, was happy to bar "working on the Creatures AI" from his "things to do before I die list".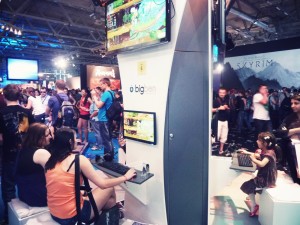 Some facts about the release date and supported platforms
The game is planned to be released at the start of next year on iOS (iPhone/iPad/iPodTouch), PC (online client), Mac (AppStore, online client). I'm vague about a date as we need to see how much time we still need to accomplish the quality we're aiming for. We are still investigating the online platforms for PC to see which one answers our needs the best.
Many people are requesting Android/PS3/Toaster/Fridge ports. All of these are possible but nothing's set yet and we'll need to see the response to the game before taking any decisions. Ultimately Bigben calls the shots in regards to financial decisions.
A boxed version will be released for PC shortly after the online release. It will include all the old chapters in the series (1, 2, 3, DS at least), a goodies of some sort and the equivalent of the game's price in in-game credits. We don't have more details about this yet.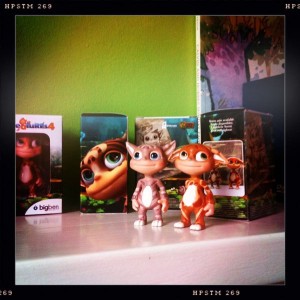 Graphics and World
It's 3D, yey!
Seriously, it's more than a simple makeover as we hope we'll be able to make the Norns feel even more alive with current animations techniques which are obviously more advanced than what was possible with 2D sprites. Think about facial animations for example.
There will be 5 environments to play on the game's release. You saw the treehouse, I can say there'll be a "hatchery" environment and more details about the other three will come in time. We're definitely taking notes of your suggestions on Facebook though J
We're still thinking about the ecology and what to make of it. Our idea is that it needs to be linked to the gameplay to be relevant and more integrated with the content.  We know it's a big part of the Creatures appeal but in our opinion in can be made more relevant to game itself and more than simple decoration.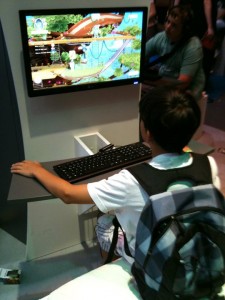 Free to play model
This is a big point and one of the main differences with the previous games. Creatures 4 is a free-to-play game and this means several things that will most likely shock/upset/depress those of you that are completely happy with a classic buy-to-play game.  Please give it the benefit of the doubt; the transition might be easier than you think. We're ourselves a bunch of hardcore gamers and we haven't sold our soul to the devil or whatever, we just think this model works both for us and the user base.
A Creatures 4 online profile will be required to play so that the game will be able to keep track of all the relevant data (progress, currency, etc.)
There will be a leveling system linked to the player's progress. The player's level will increase as in-game goals are completed. Higher levels mean new unlocked content in the Shop and in the machines (more customization options for example).
There will be an in-game Shop that will house all the content you will be able to insert into the game: toys, genetic mutators, food, medicine… Most of this is still being designed so don't take this as final.
There will be two currencies in the game: Coins, which are gathered in-game with various interactions. Golden Eggs which are either received in the game on special occasions or bought in packs from the in-game Shop in exchange for real money. Golden Eggs will allow buying some stuff from the Shop (a payment option in Coins will be available too) and speed up production cycles in machines.
All the content will be free, provided you have enough Coins/Golden Eggs to pay for items in the shop. Most (if not all) the content will be available for a set number of Coins so you can get all the content just by playing. Players willing to get things faster than they would by simply playing the game will have the option to do that by spending Golden Eggs. Practical example, let's say you want your hatchery to create a new Egg, it will take a variable amount of time depending on the Norn breed you chose. You will be able to speed the hatching process by using a Golden Egg or simply waiting for it to complete.
For those of you that are familiar with social games, the model we chose is fairly classic stuff. I know some of you see it as controversial as social games have several detractors. In truth we believe this business model has several advantages. First of all it makes the game really accessible to a lot of players who can play the game for free and still experience all the content. Not all gamers know about Creatures and this is the best way to get people on board (after delivering a great game of course).  Also, to give you a little bit of developer's insight, one of the reasons we chose the free-to-play model is that it ensures we're getting a regular income that will allow us to provide continuous updates to the game and do some basic stuff like, you know, eat

A full-content "pay 50$ to play" version is definitely possible in the future but not planned at the moment.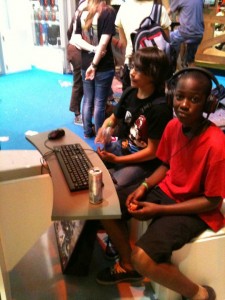 State of the demo
The state of the Gamescom demo was very early in terms of polish. We wanted to introduce the player to some of the game features and by doing that we ended up driving the player through a series of guided steps. In hindsight, we probably should have offered a simple sandbox with the Norns living and doing their Norn-ish things.
Still, it was really heart-warming to see people laugh in front of the game. Creatures 4 seemed quite popular with women and kids!
The customization interfaces you saw were meant to show our system's possibilities in terms of procedural texturing and body morphing. While we will offer the player a lot of customization options, these will come progressively as the player levels up. Natural breeding (no customization) will still play a big role as it will be the only mean to get unexpected results like random mutations and so on.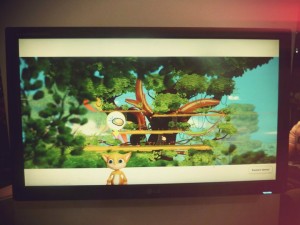 Complexity vs Accessibility
The Creatures games have always been very complex. Creatures 3 was awesome in many ways but it also managed to lose a lot of players due to its complexity. One of our major goals is to build on the existing foundations while making the series accessible to a new audience. No easy feat let me tell you!
The major change here will be a series of objectives which will need to be completed to advance and unlock new content. These will be designed to be very short-term and initially they will offer guidance among all the game features and mechanics before opening up to the full sandbox experience.  This won't be a tutorial but an evolutionary process that will give you all the tools to achieve what you want in the game.
Achievements will be a part of it too and will encourage experimenting with the tools and machines.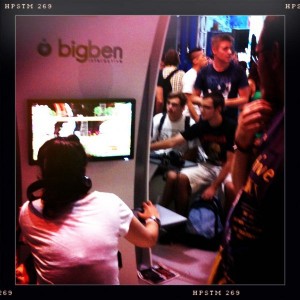 AI and DNA
It's still all here, rest assured. We're recoding some of the tools for ourselves. We're certainly not dumbing this down, but we're still thinking about what the players will be able to do with all this from inside the game and how to keep it reasonably simple to grasp (those of you that messed with Norn genetics know it can be pretty daunting right?).
Proof below …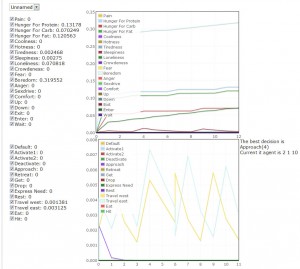 User Generated Content
This one's another critical point. We know the importance of it for the Creatures community but it's simply not possible for us to support user-generated content on the initial release.
First of all, badly handled, user generated content would be disruptive for the game as it would mess up the free-to-play-model balancing. Secondly, working on tools to make the game open to modification is a big deal: it requires a lot of time and a larger investment than we can afford right now without being sure the game will meet a large enough audience first.
Don't lose hope though; we have some ideas on how to open the game in the future: we're looking at what Valve did with Team Fortress, allowing users to produce and distribute content in the game and actually support that process. There are very good ideas there and we'll be looking in that direction in the coming months.
And also, hopefully the customization options in the game will keep you busy in the meantime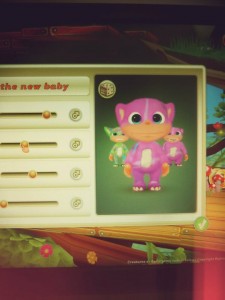 Norn races, Ettins, Grendels
As you've probably heard/read, we're bringing our own ideas to the Creatures world, with 5 Norn breeds, two of which were available in the Gamescom demo. Each breed will be linked to an environment and will have a unique visual look.
We've come up with a breeding system that allows mixing these Norn breeds to create millions of combinations in terms of color, fur, body shape and genetics.
While Grendels and Ettins won't be in the initial release of game, I think it's pretty much clear that they're high up in the wanted features list of the community and thus high up in our todo list as well for after the game is released. Once again it all comes down to how the game will perform.
Social features
I can't go into much detail about this at the moment but we're definitely including some social features (sharing Norns is the first on the list). Again, more info about this soon.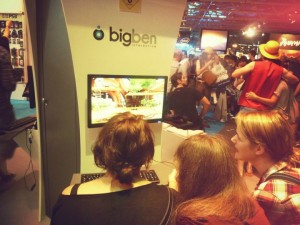 That's it…
I think I've touched the major points.  Feel free to comment but please don't get mad if we're not answering…
We don't have a community manager here so we're taking time off from production to handle emails and comments. This is not ideal and soon a dedicated Creatures 4 website will be available so we'll be able to better answer your questions about the game.
Before ending this post, let me express our gratitude: we are doing our best to deliver a great game and your support matters a great deal to us. So do what you can to spread the word, I'm confident that in the end both you and us will be happy on how the game will turn out.