Hi Creatures fans!
It's time for a long overdue update.
Let's start with the big bad news of the day. Creatures 4 is delayed until Q2 2012 (no date yet). I know, it sucks, but let me explain the reasons for this fairly huge delay and why it will be a good thing for the game.
And there's some good news too…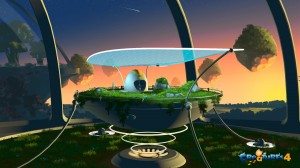 Let me present the Hatchery. The first environment you'll play in when launching the game for the first time and your central tool to bring the Norn eggs into the world. Hope you like it!
The Hatchery is pretty important in showing the kind of starting scenario your Creatures 4 experience will start with.
The real piece of good news is for the Android fans among you. We're happy to announce that Creatures 4 will be released on your devices too! A lot of people requested it when we were at Gamescom and since the Android market is definitely growing, it ultimately made sense to Bigben and ourselves to get this going on.
So, let's tackle the reasons for the delay and discuss where we are in regards to development right now.
There are two main reasons for the delay.
First, it simply took more time than we anticipated to reach our target quality and merge the Creatures engine into our own to bring the game to 3D. We're very happy on how it's going at the moment and we've finally reached a point where a freeform sandbox experience can run on its own without imploding into a black hole and suck in all of Belgium. What this means is that we're finally adding our own layer of content to the game and it's a very exciting time that feels like a new "aha" moment.
The second reason is that we want to release a game that is better than what we originally anticipated. Obviously our goal was always to deliver a great game, but our vision has evolved as the project took life. The first showings of the game and your feedback gave us new ideas which will ultimately allow us to improve our original design in several ways. The trade-off is that we need more time.
In regards to the development, we're designing and integrating a brand new layer of content: that covers all those things that never existed in Creatures before and that will make Creatures 4 a good game by its own merits. We want to bring new interactions with the environment and bring a sense of palpable evolution to the Norns.
It's clear to us that the focal point of the series is breeding generations of Norns which are increasingly more capable of handling themselves and their world. How can we encourage that, how can the world around the Norns react to their evolution, etc. These are the kind of things we're dealing with right now. The ultimate goal here is to avoid the over-complexity of Creatures 3 while extending its gameplay.
And since it's now the time to shoot for ideas, we have a couple of questions to which we think you guys will answer better than anyone. We're genuinely interested in gathering a lot of great user experiences we know are important to a Creatures game player. So…
What is the coolest or the most advanced thing you've ever done, tried to achieve or wished you could do in one of the previous Creatures game?
It can be anything: breeding a über cool or super intelligent Norn, do something with the environment, messing up with the ecosystem, you name it. Though I'd like you to limit this to what the previous games offered as standard content and tools. This is not a "suggest the next feature" kind of thing but more of a "tell us why it's cool for you".
Inversely, what is the most boring/frustrating/disappointing experience you had?
That's it, comment below and thank you for your support!