Hello everyone!  We know you've been waiting for some time now and I wish we could show you some gameplay but we're still working on it and we want to keep it under the lid until the quality is there where we want it to be before showing it to you guys in a video of some sort.
Still, I think it's time we show you something new right? So here is "Master Shee"…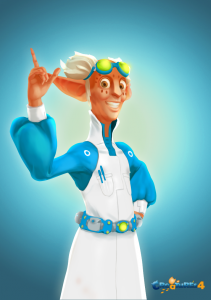 I'm fairly sure that the Shee don't need to be introduced as we're among fans here

As the Creatures series has always been shy on details about the Shee, we made the choice of exploring further this part of the Creatures lore. It's probably a bit different from what all of you have been imagining for the last 10+ years but I hope you'll grow fond of it.
About Master Shee, he's a pretty funny fellow and embodies the "naïve geniality" trait that defines the Shee. He will be your main counsel in Creatures 4 and provide you with all the information required to play the game.
The development of the game itself is moving forward. Among other stuff (a lot of other stuff), we're currently working on the in-game science kit, the critters and plants. The whole team is working very hard on a project that grew to be a lot more complex and a lot cooler than we envisioned initially.
That's it for now. We'll do our best to show more "behind the scenes" stuff from now on until we're ready to show you the game again.
Take care!