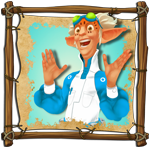 The history lessons of Master Shee keep going! This time about Creatures 2.
The action still takes place in Albia, but centuries have gone by and the planet has been destroyed by a volcanic eruption caused by the taking off of Lone Shee's spaceship, called Capillata.
Lone Shee is a bit of a geek type scientist. He was so focused on his research on the Warp (a system to transport Norns over the Internet) he didn't quite notice his friends abandoning the planet on The Ark and leaving him behind!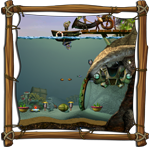 So he took his spaceship and used the volcano to boost it into space and started searching for the other members of his species.
Rumors says he hates the orange color, is furred, invented the Albian beer, loves tea and chocolate cookies and can smell Grendels from miles away.
In C2, the Lone Shee let Ettins in charge of the destroyed Albia, but they actually became a nuisance by stealing everything they found lying around. He admits himself it wasn't his best move. Players however kind of enjoyed it because they could finally breed a new species!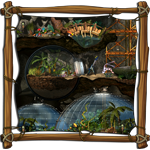 The most interesting improvement of this sequel is its ecosystem. However, due to the game complexity, a bug made its first appearance, dubbed the OHSS (the One Hour Stupidity Syndrome). This illness caused the affected Norns to become totally idiots after one hour of play, forgetting important things like how to eat or sleep.
The first Norn on Creatures 2 had a name too and it was Alice, this time.
You can close your history books for today. Class dismissed. See you all next week!