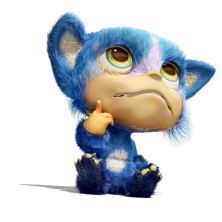 The games industry is filled with notorious stories of underestimated development cycles, changes of scopes, technical hurdles… By now we all know Creatures 4 is certainly no stranger to all that.
Around April/May 2011, the plan was that Creatures 4 would be ready within 9 months… We've now officially entered 2013 and Creatures 4 is still a no-show. However, we're finally seeing the light at the end of the tunnel.
Quite frankly, the whole first year of development has been spent on deciphering the A.I. code of the first three installments, making sense of it all, and merging all the stuff with our Mojito engine. That alone took us until the first months of 2012 and to this day we still notice bugs both old and new.
Furthermore, we were always conflicted about how to "restart" the Creatures IP in a way that would make it appealing to a new audience while avoiding the over-convolution that led to smaller sales and eventually the disappearance of the series after C3 (this is a fact, regardless of how fans or ourselves feel about it). We underestimated the complexity of striking the balance between staying true to the original IP and widening the game's appeal.
And of course, since Creatures is a game series like no other, while exploring the source code of C3, the list of ideas and possible features that we could pack in kept growing longer.
Escaping Scope Creep
It's only in the last eight months that we have felt like we were really making great strides tying everything together into a persistent universe. We've re-introduced the eco-systems (still working on this). The inner-workings of the Norns are all in place minus some bugs here and there. We've also set in stone most of the UI and tools you'll be using in the game. Our next blog post will most probably be about what's going on inside a Norn and what tools we developed to monitor our little creatures and debug their behavior, so that you folks can see for yourself that we have not dumbed down the complexity of the game one tiny bit.
Graphics assets are almost all ready and integrated too. There are some visual things that need to be taken care of like the fur rendering which is not optimal, "wet" skin on amphibious Norns ( what!?

), various optical bugs and, last but not least, performance optimization. We're happy with the world we've created and we think it strikes a good balance between familiar and fantastical.
We've just recently put great effort in reworking the way our procedural techniques work for Norn patterns generation. We want to ensure that no two Norns look alike and to guarantee a diverse range of patterns that can be merged to create cool-looking hybrids. This will also be the subject of an upcoming blog post to show you guys how things have improved since this summer's public demo.
Important things like the Hatchery and Splicing machines are being completed as I'm writing these lines. They've both undergone several iterations but we're very close to final now.
We're also nailing down the story details at the moment. In that respect, the work the community has been doing in the last ten years is a great source of inspiration. Nothing super fancy or too intrusive but we want to insert cool nuggets of info here and there for old-time fans and newcomers who want to dwell a bit deeper in the Creatures' lore.
Throughout the project we have also laid out the technology that will serve us to go multi-platform on day one. But we have gone places with Creatures 4 that we as a small indie start-up had never visited before. For this to happen, our code wizards led by Julien Hamaide and Ramses Ladlani, had to give Mojito a major overhaul. This process has been a lot more strenuous than we anticipated and we're not out of the woods on this one yet as our goal hasn't changed: we want to be up there on-par with the best-in-class on touch devices when we release and to do that we still have to squeeze out slightly improved performance.
We sincerely and profusely apologize again for all the multiple delays this project has suffered. We probably should have hidden behind the letters T, B and A long ago. We made a bad call announcing the game too early (blame it on our own excitement about scoring the deal), and after realizing that this project needed extra care, we kind of moved into the "ship when it's ready" mind-state that has been ours since late 2011, but then kept guess-pushing the estimate launch date every six months, which was both an amateur-ish and cruel thing to do. We thought we could deliver a game faster and better that anyone but in retrospect 2 or 3 years is simply what it takes to build this.
We reckon we could have handled the communication line much more smoothly. We thank you for your patience along this ride and are truly sorry if it all felt like we were playing with your nerves. This was never our intention!
We are trying to start the dialog anew with the will to be as transparent as possible in showing our progress and explaining how things work and gather your feedback, so hang in there a little while longer and keep an eye on this space, as we are about to unveil the specifics on Creatures 4 system/mechanics through a series of regular updates that will start in the following weeks, leading up to beta, then official launch.
Oh, and don't bother trying to bribe us about getting into the beta just yet, details about that will be revealed in due time. Meanwhile, you can also subscribe to our drip-feed of the latest visual updates over at Instagram. And if you've recently decided that you'll never visit them again because you hate their T.O.S., we've got an alternative for you up on Flickr.
If you recently tried to comment to our blog articles in the section below and found yourself stuck because of not having an account, please note that guest-commenting was disabled by mistake earlier (we omitted to toggle an option off during our Disqus plug-in implementation)… Guest posts are now enabled again! So if you don't like sharing private information at the same as your opinions, you can take it easy and feel free to speak out anonymously again!