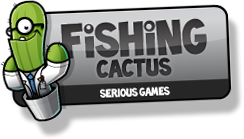 Maybe you know about us because of hit mobile games such as :shift:, IndestructoTank, Paf Le Chien, After Burner Climax or Slash Monsters. Maybe you came to this blog because you're a long-time Creatures fan and you're dying for updates about upcoming Creatures 4 on PC, MAC, iOS and Android. What you might not know is that behind the scenes, for the last three years already, more and more companies have turned to Fishing Cactus for research and development on lots of Serious Gaming projects that have an impact either on resource management and staff training or on very important society sectors, such as health for example.
If you're interested in leveraging video games for the greater good, we invite you to take a tour of our Serious Cactus site, where you'll find our biggest past projects presented in great detail, with videos, screenshots and explanations. There you'll also find information about the reputable clients who have trusted us with their plans so far, as well as our philosophy when approaching to Serious Games and our scope of technological expertise.
Fishing Cactus talking Serious Games and Creatures 4 on Belgian national TV channel, RTL-TVi. Click on the Closed Captions icon at the bottom edge of the frame to activate English subtitles.