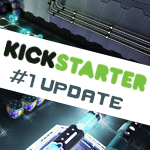 From everybody here at Fishing Cactus: Thank you <3. Thank you for being fans Of Algo-Bot , thank you for spreading the word about it and thank you so much for the support you have shown us in your comments!
Depending on how the development is coming along, we will be posting some new prototypes or screenshots later this week to keep everyone enticed. If there is anything you want us to show or have any questions, don't hesitate to ask them by dropping a comment in the comment section or sending a private message to this account.  
We are also happy with the overwhelmingly positive press we've received for Algo-Bot so far. Here are some highlights:
"I've played through several levels, and so far I can tell that Fishing Cactus has a good thing going (…) I'd highly recommend pledging to this cause, as Algo-Bot has found my favor"  The Examiner.com - Steven Cathy
"Seuls deux mondes étaient accessibles dans la version envoyée à la rédaction, mais ils permettaient de se faire un premier avis assez positif sur les mécaniques d'apprentissages" Gamekult – Boulapoire
"un jeu de type puzzle qui a pour ambition d'amuser mais aussi d'initier au code informatique ceux qui le souhaitent. Apprendre en s'amusant, ça c'est un concept sympathique." Mondes Persistants – Arkehyna
We can't tell you yet if the game will be a success but we can already tell you that it's gonna be an incredible adventure. Seeing the team holding its breath when I pressed "Launch" really worthed it!
Thank you again!  
- The Team