Weekly Update #48: a bit about the science kit
Hello everybody,
Not a lot of things to say about last week! Two programmers were in holidays, so we mainly tested the last modifications (science kit, Norn collection screen) and fixed some related glitches.
So, here is simply a screenshot of the science kit: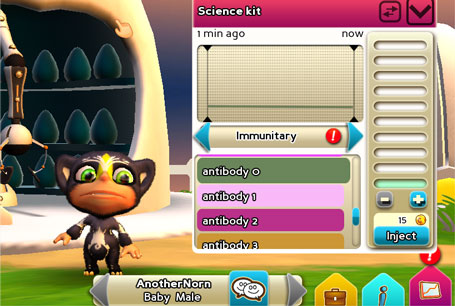 - Chemicals are classed by categories (here you have the Immunitary category)
- The graphic only displays the selected chemical (here, antibody 0), but when no chemicals are selected , it shows all the chemicals of the current category
- As you can see, there are injection prices. It should not prevent you to experiment with it as prices are generally cheap, with some exceptions: food-related chemicals (injecting directly proteins, or increasing the glycogen reserve…) and the life chemical.
- An icon on the top-right allows you to switch between displaying the graphic or the chemical description.
Also, next update will come a Monday, too (I won't be there Friday).
Have a nice week!
Some previous updates:
Weekly Update #47: Display Tweaks
Weekly Update #46: Resources and genome issue
Weekly Update #45: The Crafting Machine in detail
Weekly Update #44: Technical features
Weekly Update #43: The genome patch tool
Weekly Update #42: Incoming closed beta
Weekly Update #41: Apple validation