Weekly Update #65 – Explanation / recap of some game features
Hello everybody,
Unfortunately it becomes harder and hard to find something to say in the weekly update without saying "debugging" and "fixes". So, from now on, it will mostly consist in some explanation / recap of some game features.
So, let's start with an overview of the world monitor: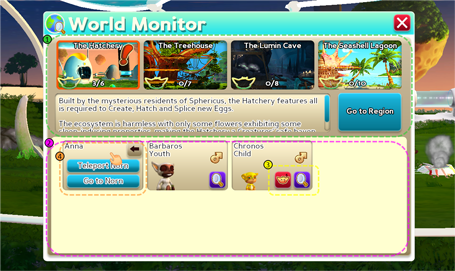 1/ Tap on a world to select it. When selected, the small description as well as the Norns displayed in [2] will be updated. Tap again to go to this world (you can also use the "Go to region" button). Worlds are unlocked through progression.
2/ All the Norns present in the selected world. The maximum number of Norns depends of the world.
3/ The magnifying glass button opens the menu [4]. You can also see an icon representing the current need of the Norn. If the Norn has no important need, nothing is displayed. In case of high hunger or high pain, the icon is displayed in red and a "!" is displayed on the world's picture.
4/ "Go to Norn" will lead you to the world the Norn is in, "Teleport Norn" will teleport it in the current world.
That's all! Have a nice week!
Some previous updates: 
Weekly Update #64 – Why is debugging mandatory?
Weekly Update #63: Tweaking and answering questions about the video
Weekly Update #62: Gameplay video (mobile version)
Weekly Update #61: The Twitch Session Official Date
Weekly Update #60: The Science Kit in Colour
Weekly Update #59: Twitch news and debugging
Weekly Update #58: The Mini-Norn bug