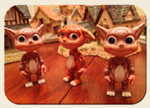 We'll be holding a live Q&A session between game designers Andrea Di Stefano and Samuel Languy, from the C4 dev team, and you folks, from the vibrant Creatures community! You'll get to directly discuss with them about the development so far, and about the inner-workings of the upcoming game. The event will take place in the CreaturesVillage Chat Rooms, also known as CC Chat, where most long-time fans of the series already have their habits. An active mIRC connection is required to attend. The dialog is scheduled on Thursday 28th of February 2013 at 7.00 pm G.M.T.



For those who can't make it, a transcript will be recorded and shared publicly after the fact. Even better, you can register your question right here, ahead of the gathering and get a chance to have it asked by our Creatures 4 Ambassadors during the session, if its relevance catches their attention! The live session must be restricted to one language only, which will be English. So if you want to ask us questions in French, Dutch, German, Japanese, Swahili or any other language known to Man and Google Translate alike, feel free to do so in that same pre-show thread.
In case you hadn't noticed, the #NornInvasion of Earth is gearing up, with little ones popping all around the globe. The limited edition figurines have been won by some lucky few during an Instagram Adopt-A-Norn give-away. If you missed the occasion, we're prepping up more contests as we speak, so keep an eye on our social media in the coming weeks!



On the development side of things, March 4th has been formally set as the beginning of our Alpha-Testing phase. It has been decided that this one would still be internal for now and the target will be to get the game "feature locked". The polish 'n' refine cycle will continue in parallel for a while (that will feel like forever to you, and like the bat of an eye to the devs), until we finally feel confident enough to open the testing to outsiders, therewith commencing beta. Alpha-testing will involve absolutely all Fishing Cactus employees, regardless of which department or team they belong to.
If you recently tried to comment to our blog articles in the section below and found yourself stuck because of not having an account, please note that guest-commenting was disabled by mistake earlier (we omitted to toggle an option off during our Disqus plug-in implementation)… Guest posts are now enabled again! So if you don't like sharing private information at the same as your opinions, you can take it easy and feel free to speak out anonymously again!