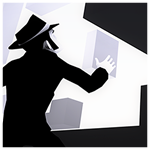 As you probably already know Shift is one of our biggest successes, with almost 16 millions players worldwide, and we are developing and porting it from one platform to another as fast as we can offering you each time a new game experience and new content to have fun with. This time around, it's the Nintendo 3DS we are shifting.
We started developing this new edition in December 2011 in partnership with the owner of the license Armor Games and two different publishers, Rising Star Games for Europe and Aksys in the US. The game has been released in Europe last friday! And if you want to try it before buying it, a free demo version is on the Nintendo eShop on your 3DS!
Don't lose this opportunity because Shifting World will totally plunge you inside the world of Shift and this time in full-on 3D!! And that's not a gimmick either, it truly affects gameplay here. You will have to constantly switch between 3D and 2D views to find your way through 60 levels and 5 worlds. In the demo version you will have access to one level and you won't be able to play the Time Attack Mode, the option that allows you to play the game against the clock, but you'll basically get just about enough to fall in love with the game!
Flip your 3DS open and download the Shifting World demo right now!