July 24th, 2015 by Sophie Schiaratura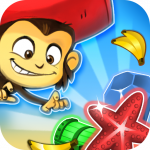 Join two young pirates on their quest to make the ultimate friendship smoothy through this bright, lively and wild monkey world. Monkeys Ahoy! is a match 3 game with a twist where players can connect pirate treasures by drawing the longest line possible through the same shapes and colors. The game allows for unique combos and chaining as you jump between shape and color to continue the chain. Easy to play and learn with the added fun of trying to make the longest chain through all the pirate goodies! 
Monkeys Ahoy! is available for $1.99 on The App Store in English, French, Spanish, German, Portuguese, Polish, Dutch and Russian.
iOS version:  http://tiny.cc/monkeyios