The Q&A chat session between C4 dev team members and Creatures community took place last Thursday 28th of February as scheduled. Over 60 fans attended and it was sure an epic chat, which we have very much enjoyed on our end. Special thanks to Jessica from DiscoverAlbia for moderating the questions stream, it would have been much more chaotic without her help! We tried to answer questions to the best of our ability (and without breaking certain confidentiality ties with various stakeholders). An edited log of the event can be accessed on Creatures Caves, thanks to Rascii. We're also very grateful to our three other fantastic Ambassadors, Laura (host of the party), Don and ChosenPredator for all the effort they've put in to spread the vibe and sort out absentees' questions ahead of the live show



As always in such circumstances, some questions were left unanswered. We have received a summary of those through Jessica, and in a "get bonus" spirit, game designer Andrea is going to tackle some more right here:
Q: You mention 150 chemicals ; sounds like the old versions, did you change or improve things about biochemistry or did you stick on the previous mechanism? (Dr_Shee)

A: While the main system is relies indeed on the C3 foundation, we definitely tweaked some values and adjusted the system to match some new sections that we have added in the game, and also to implement the "altruism" mechanic that regulates the Norn willingness to carry out actions that are beneficial to the Norn "society".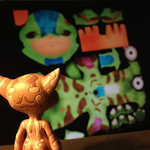 Q: My question is, you've obviously done a lot of changes to the morphology and colour patterns of the Norns, how is this reflected in their DNA and inheritance of these traits? It seems much more complicated than in previous games! (NornsofOurAlbia)

A: Indeed, it is more complex. We're keeping these details for an upcoming full-on blog post (which our recent Instagram photo was a tease for) but to give you an overview, each Norn is made of several texture layers, both procedural and human-made. Procedural textures mean that while the overall look of the pattern will be consistent among a specific breed, there'll be an element of randomness in the detailing! Naturally, patterns/colors/morphology will be carried over to the offspring DNA. But I'm getting ahead of myself; more details soon!
Q: Can we 3D print our favourite norn as action figure? (MK-Grendel)

A: Love the idea! Creatures 4 would hypothetically be a good candidate for this sort of service. Nothing planned in that respect at the moment but we're definitely keeping an eye on emergent tech.
Q: Can Norns still mutate their walking or is everything animated? (MK-Grendel)

A: Unfortunately this is one of the cuts we had to make due to the way we're animating 3D objects in the game.
Q: I'd like to know if we still get to look inside the norn, checking out their brains and poke at the neurons, by clicking on them, like we could in C1 and C2. (Creature905Yme)

A: Not in the first commercial build that we will release. In all honesty it is a bit hard for us to justify developing and integrating this at this point, not knowing what would be the appeal of tools as advanced as those (internally, we're still using custom-recompiled C3 tools in regards to brain!). We've limited ourselves to the science kit for now as it strikes a nice balance between showing the Norn's complexity and preventing it from becoming overwhelming. We're not excluding anything in terms of post-launch content updates though.
Q: Will the game engine run localy or will a client server architecture be used? (Gigamoi)

A: The game engine runs locally and the game will connect to a webserver that will contain all the database data and player progress. This is required for the seamless bridged experience we want to offer across all supported platforms (means: we need this to enable continuous play when user walks away from his desktop and resumes play on his mobile device).
Q: Will there be food that can only be obtained in certain specific enviroment? (YeikoVneef)

A: Not food per se, but specific plant pots are unlocked once you discover new environments. You might find a few surprises if you search Sphericus thoroughly

Q: Will Angry Nornito feature in any later parts of the game? (C-Rex)

A: Wow! We didn't anticipate Nornito to have a fan club of his own

So while we don't have plans now, Nornito might get back to C4 at one point!
Q: Why in the Gamescom 2012 demo did that Norn fly off into the air? (C-Rex)

A: Two possible answers: 1) the Norn was using the Norn hairdryer in a clever fashion. 2) A nasty coding bug we hadn't removed yet!
Q: Being multi platform, will norns be able to travel from one system to another? (McDuff)

A: If by system you mean iOS, Android, PC, Mac — The answer is yes!
Q: Will Norns be able to call the Hand by name? Can they interact with it, liking or disliking and such? (LilyNorn)

A: They certainly look at it (they do that a lot actually! Looks cool!) but not directly interact with it (like grabbing it). At the moment they can't call it by name, but the idea kind of makes sense now that you mention it — Let it percolate with us during the ongoing alpha-test phase

Q: Will there be a ingame breed-editor or is it planned? (dk1987)

A: The splicing machine lets you tweak some values when creating a new genome. Mostly cosmetic at the moment but there again we have some surprises in store.
Q: There seem to be some "loading" action in the demo, it's something that was never seen in the previous version, why did you go with this mechanic? (YeikoVneef)

A: It's mostly a matter of feedback. We're not planning on having long-lasting Norn actions with progress bars and such. The world can get pretty cluttered when you start decorating your regions. Sometimes, more feedback on some meaningful actions is helpful in seeing clearly what is going on.
Q: If a norn loses all genes for their look – how would they look like? (eg in c3 would look like a bruin norn) (MK-Grendel)

A: Mmm… Naked? I don't think it's possible any more to be honest. We've secured that part of the genome to make sure cosmetic genes are always present as they also determine the morphology of a Norn and removing them would probably break the game.
Q: Will C4 include support for user-created add-ons? And if yes,on what level? What are the possibilities? (Eprillios)

A: At this point we don't have plans to support user generated content. As we've said in the past, we'd love to look into that possibility but we need to finish and release the core of the game first.
Thank you again for everything! We sure look forward to organize another get-together some time soon

We'll try to come out with a new blog update as soon as humanly possible, but please bear with us a little bit as we are knee-deep in alpha-testing here… In the meantime, you can enjoy the interview our team gave to national Belgian TV station "RTBF" last month, now subtitled in English on YouTube (click on the "Closed Captions" icon at the bottom edge of the frame to activate the subs).