Many of you, in comments to our blog posts, during the Q&A chat sessions and also on Facebook, have shown curiosity regarding the procedural methods that we use to ensure that no two Norns look alike. Today we will be detailing how the Norn fur patterns are produced by our artists and coders. 
First things first. There are several breeds in the game, between 12 and 16, depending on what we manage to fit into the launch edition.
Up to a couple of months ago, our process for creating new breeds was rather messy to say the least, based on us trying to understand how to make the bricks turn into solid foundations that were still being designed. Uck!
We are in a far better spot now, which makes it actually fun to create a new breed

It starts with one of us coming up with a cool idea for a Norn breed and defining some basic traits for the breed.
The second step is to prepare a reference art for the new Norn breed. 
Olivier and Antoine, two members of our awesome art team, work together to produce a concept art that conveys the traits of the breed.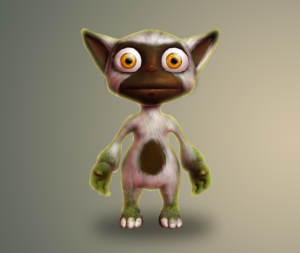 This one above is a "Wildling Norn" by the way, a Norn that managed to escape from the safety of the Hatchery region and evolved in the wilderness.
Once we are satisfied with the art, Olivier's procedural tinkering begins.
Two main goals here: first, to make sure two Norn from the same breed do not look the same (that's one of the main perks of using procedural generation); second, to allow all the Norn breeds to be crossed together through natural breeding and gene splicing operations.
Each Norn is made of several texture layers, some procedural and some hard-set. Every element below can be swapped during breeding/splicing.
One Skin texture: static picture that contains the underlying skin which is unique to every breed and can't be "blended" with other skins. There are

variations

of these for male, female and elder Norns.

"Belly" Texture: static texture that contains the belly spot most Norn breeds show.

Eye texture & color

: static texture. The color is pre-set in the texture, meaning that all Norns that are pure breed have the same eye color (of course they can be crossed with other breeds to exhibit another eye color).

Heterochromia iridum

is also determined by this texture. That means that a yellow and pink

heterochromia

will always be yellow/pink. While this is a limitation of the system, it bears the benefit that it allows us really setting in stones the look of a breed.

Base fur color: while the color is not set in the texture, it is fixed for each breed during the creation in our tool (see below). At the moment two

pure breed Norns

have exactly the same color although we might end up adding some slight hue variations to further differentiate two same-breed Norns.

Main Pattern: There are two pattern textures (which can be empty if needed). We call this the "main" pattern as it is usually used for the most recognizable visual markings.

Main Pattern Color.

Detail Pattern: Same as the previous one, but usually used for smaller dots and marks on the Norn fur.

Detail Pattern Color.
Once Olivier has completed the technical design of the pattern and produced the required visual assets, the last step is to assemble all of the above in our Norn creation tool. It's a web based tool that allows us to push new breeds into the game and preview them in real time. It's pretty neat!
You can see that the information here is grouped into 8 boxes. This is important as they correspond to the 8 genes that define the Norn visual look. More on that in a further blog post about splicing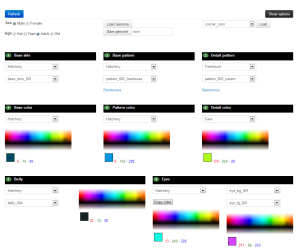 As a side note, this creation system allows us to specify cosmetic differences reliant on gender/age but truth to be told, we haven't gotten around to use this cool feature yet, due to time constraints.
The assets themselves are produced as follows:
The static textures are produced in Adobe Photoshop as standard character textures.
The procedural textures are generated in an open source tool that allows basic 2D patterns to vary depending on several parameters defined by the artist. 

This is really cool because even if two Norns have the same pattern (eg. The gene is the same), the pattern will be generated and applied a bit differently on each Norn.

Once that step is finished, the only thing left to do is to preview the Norn in the game. Tada!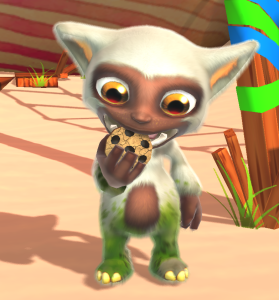 Hoping that this brief overview gives you a better understanding of how the Norn cosmetics are created. Obviously the goal of all this is simple, making sure no two Norns are exactly equal and give you bazillions of possibilities for combinations!
We're pretty sure you'll have even more questions after this post and we'll do our best to answer them, just keep in mind that part of our team is at GDC next week so replies may take a little longer than usual (okaaay, we're not THAT quick usually, but still, you get my point

) 
UPDATE: fixed a couple of link to full-sized pictures