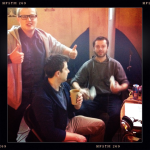 Arriving At The Global Game Jam
That they work all day every day on Creatures 4 is normal. It's their job. That they keep working on it overtime, long nights and during weekends is somewhat understandable. For it's their passion too. But when we unleashed our Andrea DiStefano, Samuel Languy and Gauthier Billot for two days off so that they can relax and recharge the batteries a bit, we didn't quite expect that they'd go ahead and build another game from scratch during their spare time. Yet that's exactly what they've done two weeks ago during Global Game Jam. They were accompanied in their little escapade by our Fabrice Lété and Guillaume Bouckaert, though the latter both ended up working with other dev teams once on site.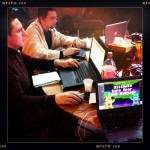 For those who are not familiar with it, Global Game Jam is a regular worldwide effort organized by a central entity that coordinates all local chapters. The concept is both simple and amazing: on a given day, game developers and artists from around the globe, professional or hobbyist alike, set up locations in their region, where they meet and… Improvise the creation of video games on the fly. By the end of the event, the games must be finished.
The latest Global Game Jam took place between January 25th and 27th, and the Belgium scene gathered to the Design Center of Winkelhaak (Antwerp area) for the meet-up. Our three nutjobs only joined the partay on the Saturday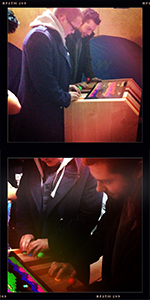 The Ultimate Care Bear Love Rampage
Upon arrival on the set, two things immediately grabbed our gang's attention. First, the camping tents in the corner of the room. Then, a fascinating object had already caught their eye:  the Winnitron indie Arcade system. Already existing in Canada, Shanghai and New Zealand, the collective-spirited retro system was introduced to Belgium for the occasion. A stick and two buttons over a stylish wooden cabinet. 
Take off your jacket. Code, draw, assemble. Don't stop until they tell you to. Gauthier Billot took the lead on the actual coding, assisted in that by Sam Languy, who also handled sound and music on the side (he actually kept tweaking the main track for a week after, in the car-pool ride to work that he shares with Andrea every morning – note that his creation scooped the prize for "best sound"). Andrea drew the graphic assets to change his mind from his game designer routine. No real director to speak of, our three stooges pretty much decided the mechanics and the flow of the game collectively, in iteration and in consensus. 
The game was built upon the Love 2D multi-platform technology, using a Linux PC, a Windows PC and a MAC. It relies on the Winnitron Frameworks to run on Arcade machines. Maps were created with Tiled software. The underlying concept is clearly and blatantly borrowed from Halfbrick's brilliant Jetpack Joyride. You press a button to go up, and release it to go down. But there's a tiny twist that the crew borrowed from some frantic button-mashing titles of our youth, such as Track'n'Field: sometimes to floats upwards, you have to rapidly and repeatedly tap the A and B buttons at the same time until you break a sweat out of it. The action gets increasingly hectic as you progress. Levels are generated randomly. You can play the game alone or against a friend. 
In lieu of Barry Steakfries, the central character you control is an adorable care-bear made of thick and blocky 8-bit era pixels. Don't be fooled by its cuteness though: it is out for rampage. There's your title right there. Just throw in an "Ultimate" at the beginning for the wow-factor, and add the word "Love" somewhere in the middle because it's got heart (and pixelated hearts assets too) — And that's a wrap. Happy Valentine's Day everybody!
You can freely download the game file from here
Special thanks to Wim Wouters for setting up the GGJ belgian chapter and making this wonderful weekend possible. Here below some more pictures of the event that he took.
















If you recently tried to comment to our blog articles in the section below and found yourself stuck because of not having an account, please note that guest-commenting was disabled by mistake earlier (we omitted to toggle an option off during our Disqus plug-in implementation)… Guest posts are now enabled again! So if you don't like sharing private information at the same as your opinions, you can take it easy and feel free to speak out anonymously again!