Weekly Update #66 – The Hatchery Machine interface
Hello everybody,
This week I'll present you a small summary regarding the Hatchery Machine interface: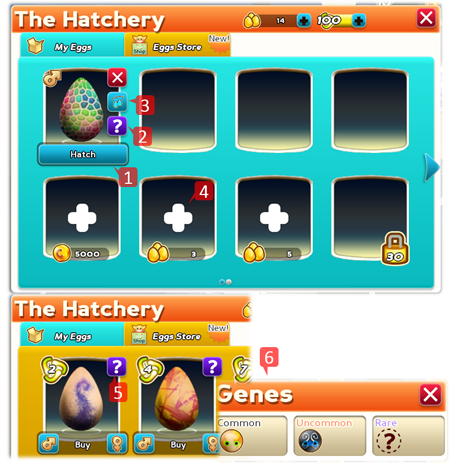 When opening the Hatchery machine, you'll see 2 different sections:
- The "My Eggs" section, which contains your eggs
- The "Eggs Store" section, which allows you to obtain new eggs
From the "My Eggs" section, you can see your eggs and hatch them if you want to (1). You can also see the 8 appearance genes of this egg by clicking on (2), allowing you to have an idea of how the Norn may look without hatching it. If your game is linked to a Facebook account, you can also send this egg to a friend (3).
You have a limited number of egg slots, but you can buy some more using coins or Golden eggs (4).
Click on (5) on the "Eggs Store" section to see which appearance genes each egg can contain (6). Eggs can be bought with energy, which refills automatically with time.
That's all! Have a nice week!
Some previous updates: 
Weekly Update #65 – Explanation / recap of some game features
Weekly Update #64 – Why is debugging mandatory?
Weekly Update #63: Tweaking and answering questions about the video
Weekly Update #62: Gameplay video (mobile version)
Weekly Update #61: The Twitch Session Official Date
Weekly Update #60: The Science Kit in Colour
Weekly Update #59: Twitch news and debugging