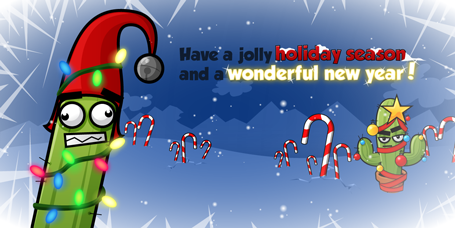 Dear Santa,
We have been very good and prolific this year. Now and then we have been oddly and spiky but most of the time as jolly as a cactus can be.
The Cacti worked so hard this year, I am afraid they are just about to turn a little bit grinchy. You know how it is, especially at this time of the year. I guess your elves are busy and grumpy too. At least, I hope your reindeers, penguins and polar bears are getting along. Talking about penguins, we may have got something for you: it's a game called Learn 2 Fly. We've been working on it for a year now and it's almost finished. Don't hesitate to spread the word!

Fortunately, we will invest the new building by the middle of January which should make us merry as crickets. It will be the perfect occasion to rest and have a joyful feast.

Our planning for 2014 looks promising: There is an opportunity to develop more Fishing Cactus branded games.
We started with Algo-Bot. This serious game has been developed for Technobel with the participation of the EU. They were so satisfied that they allowed us to extend the development and commercialize as a full game. That brings us to a brand new adventure: crowdfunding. If by any chance you are interested in coding, Santa, it's the right game for you. Cherry on top, the game recently won two awards: Top 5 best indie game at Indie Prize Showcase and Best Serious Game HR – Training at Serious Game Expo.

Not to be outdone, our other projects are making good progress. In particular, the game we are developing with Child Focus. This one is going to be pure genius. It's a serious game meant to make teenagers responsible and aware of their use of social networks.
Let's talk less serious! We just signed a game that will keep us busy in 2014. This game officially gave us the Wii U developer status. So, don't be surprised if you find our games on your list in the future.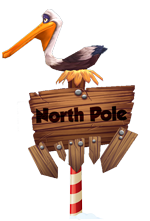 So many different games, wonderful universes, beautiful ornaments that are Fishing Cactus' pride with on tree-topper, Piratoons an awesome pirate game that will also be released under Fishing Cactus brand early 2015.
All this blabla to tell you something, Santa, we have been very kind this year but we don't need anything for ourselves. If you really want to give us a present, it would be great if you could visit our friends and all the people we had the chance to work with and fill their socks with Candy Canes and beer because we want nothing more than thank them this year.
Thank you and best wishes for 2014.
The Fishing Cactus Team