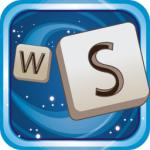 Hi gyus!
Hpoe you're fnie. Is tehre soemthnig worng wtih my psot? Srue not! Atcaully you hvae jsut knid of plyaed our new gmae Swappin' avialbale tdoay.
Our new spelling race style word-game is available on iPhone, iPad, iPod Touch and Android for only 0.99$ / 0.79€ and is playable in English, French, Italian, German and Portuguese.
In a nutshell, Swappin' is a simple and addictive game in which you have to find the swapped letters to progress forward. If you didn't get the point yet, I guess it's time to start playing it and train you lzay barin!

Swappin' is not the sole creation of Fishing Cactus as Stefan Nicholic, creator of the concept, has put a lot of efforts into the flash version of the game (released a couple of months ago). For this specific iOS/Android version, Fishing Cactus added quite a lot of new concepts including the double swapping mechanic. We hope you'll enjoy it!