Weekly Update #47: Display Tweaks
Hello everybody,
This week we worked on the science kit. It includes :
- adding a short description for each chemical
- improving the graphic readability by adding the ability to display only one chemical at once
- An icon "!" now shows near some important chemicals when they are critically low / high
We also worked on the appearance of the Norn collection screen. Now it is only one page with a slider (instead of the more rigid "multiple fixed pages" we had before), and Norns are organized by "series". It doesn't really change a lot of things functionally-wise, but we feel it to be more convenient and better-looking.
That's all for today! Have a nice week!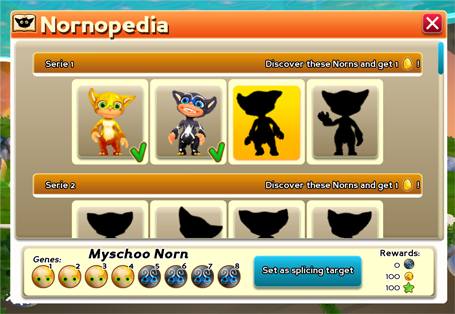 Some previous updates:
 Weekly Update #46: Resources and genome issue
Weekly Update #45: The Crafting Machine in detail
Weekly Update #44: Technical features
Weekly Update #43: The genome patch tool
Weekly Update #42: Incoming closed beta
Weekly Update #41: Apple validation
Weekly Update #40: Fixing bugs and working on the crafting system