Weekly Update #68 – The game's shop
Hello everybody!
This week I'll simply do a summary regarding the game's shop.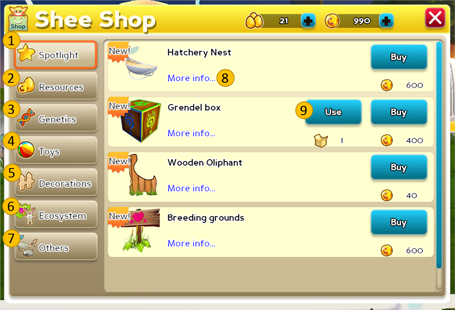 As you can see on the picture above:
(1) Spotlight: More and more objects are available in shop according to your current level. This category shows the latest items unlocked.
(2) Resources: In this tab you'll find coins and golden eggs.
(3) Genetics: You can buy here genes pack to use with the Splicing Machine.
(4) Toys: Self-explanatory. Toys mainly relieves Norns' boredom.
(5) Decoration: A lot of items are present here, which are purely for decoration. Though actually there may be some exceptions.
(6) Ecosystem: You can buy here plant pots (to grow fruit plants) and critters. Naturally occurring flowers, grass patches and insects can't be bought as they depend of the world.
(7) Others: You can buy here coin machines and nests for your Norns to sleep.
(8) Hide / shows a small description of the concerned item.
(9) Upon buying an object, the game let you place it. However, you can stock objects you don't want to place immediately. That's why you can see a "Use" button here: I already have one of these objects in stock.
That's all for today! Have a nice week
Some previous updates:
Weekly Update #67 – The Splicing Machine Video 
Weekly Update #66 – The Hatchery Machine interface
Weekly Update #65 – Explanation / recap of some game features
Weekly Update #64 – Why is debugging mandatory?
Weekly Update #63: Tweaking and answering questions about the video
Weekly Update #62: Gameplay video (mobile version)
Weekly Update #61: The Twitch Session Official Date