Master Shee is calling you back to school and this time to teach you about the Docking Station incident.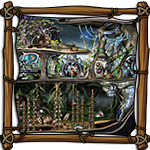 This story related to the Lone Shee's journey aboard his spaceship, the Capillata, looking for other members of his species all around the galaxy. And what a journey! Lone Shee took the opportunity to travel through the Warp. Many different worlds he visited and many beautiful Norns he managed to shelter in his spaceship. Some of them discovered, some of them created, each and every one of them extraordinary.
Lone Shee had a pleasing journey overall, except maybe for the lack of teas and cookies. However, he had never imagined that he'd find some Grendels in his own spaceship. But he did nonetheless! He wondered how they managed to get there and then begun to suspect that they knew about the Warp…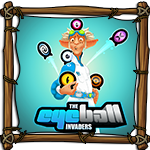 Helped by some incredibly scrappy Norns he knocked the intruders down but found they dropped something in the Capillata. While inspecting it, Lone Shee noticed a "B" marked on the surface of it and remembered a creepy old fairytale about some evil kind of Shee called Banshee. Could those things be some Banshee's eggs? So, in the nick of time, he threw some eggs, through the Warp.
At last, landing on Sphericus, our mad scientist attempted his journey's final act. He didn't quite encounter what he was after though: staring at him with his ruby-red grindelish eyes, a Banshee welcomed him.
Oh, and one more thing… While touring space, Lone Shee crossed paths with weird species called Eyeball Invaders – Check that out over on Steam Greenlight (and do cast your vote! We need your help to make the cut. Lone Shee is ordering you to!)